DIE BAND - letzte Besetzung (last line-up)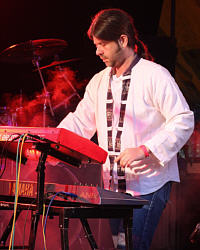 Sascha "Sosho " Kühn - keyboards, piano (zur Webseite)
* 08.07.1967
Bandmitglied: seit Januar 2000
In Düsseldorf geboren, nahm 'Sosho' ab dem 10. Lebensjahr klassischen Klavierunterricht, bis er im Alter von 20 Geschmack am Classic Rock fand und erste Experimente mit lokalen Bands startete. Es folgte ein Studium an der Hochschule in Arnheim (NL) - dann Tätigkeit als Live- und Studiomusiker in unterschiedlichen Stilrichtungen, unter anderem mit: Jean Shy (Soul / Rock / R&B / Gospel), N.O.H.A (Drum & Bass), Fresh Familee, Plattenpabst Jöak (Hip Hop), The Crybabies (70th Funk / Soul), Supercharge.
Eigenes Projekt: "Cheap Thrills" - The Frank Zappa Memorial Barbecue (wie der Name schon sagt ;-) O-Ton Sascha Kühn
1999 noch 'Sub' für Xaver Fischer stieg 'Sosho' zum 1.1.2000 fest bei Birth Control ein.
DISCOGRAFIE
mit BIRTH CONTROL
CD Alsatian 2003
CD Live in Fulda 2004
CD Hoodoo Man (Repertoire Records) 2005 (on bonus tracks 4+5)
CD Live @ Rockpalast 2005
DVD Krautrock Meeting (WDR Rockpalast) 2005
DVD History 2005
CD We Are Family (limited Fan-Club Edition) 2009
CD Live Abortion Plus 2015
CD Here And Now 2016