NEWS & INFOS
In August 2010 Elke Philburn begins the English translation of our website. Beginning with the HISTORY, our pages will now be understandable for our English-speaking fans abroad. We warmly thank Elke for this much appreciated work.
---
April 2011: New release on LTM Recordings: Backdoor Possibilities + Sartory Live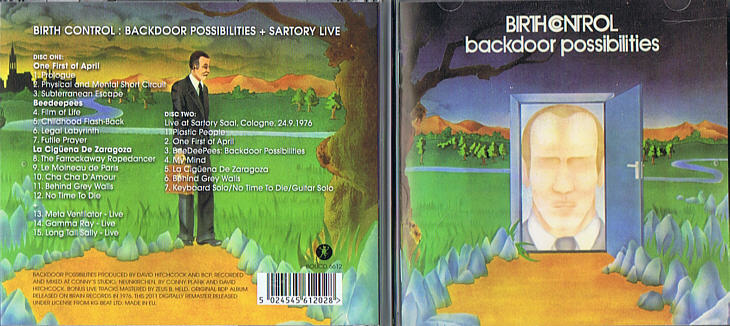 A surreal concept work recorded by legendary Krautrock producer Conny Plank, Backdoor Possibilities arguably marked their final creative peak, combining rock, jazz and avant-garde styles with intricate polyrhythmic textures and lyrical nods to Faust and Odysseus. This remastered double disc edition of Backdoor Possibilities features three bonus live tracks recorded in Korbach on 1.5.1977, as well as a bonus live disc recorded at the famous Sartory Saal in Cologne on 24.9.1976. The booklet also includes archive BC photographs and ephemera.
Tracklist: Disc 1 (Backdoor Possibilities): Prologue, Physical and Mental Short Circuit, Subterranean Escape, Film of Life, Childhood Flash-Back, Legal Labyrinth, Futile Prayer, The Farrockaway Ropedancer, Le Moineau de Paris, Cha Cha D'Amour, Behind Grey Walls, No Time To Die, Meta Ventilator (live), Gamma Ray (live), Long Tall Sally (live);
Disc 2 (Sartory Live): Plastic People, One First of April, BeeDeePees: Backdoor Possibilities, My Mind, La Ciguena De Zaragoza, Behind Grey Walls, Keyboard Solo/No Time To Die/Guitar Solo